Jucy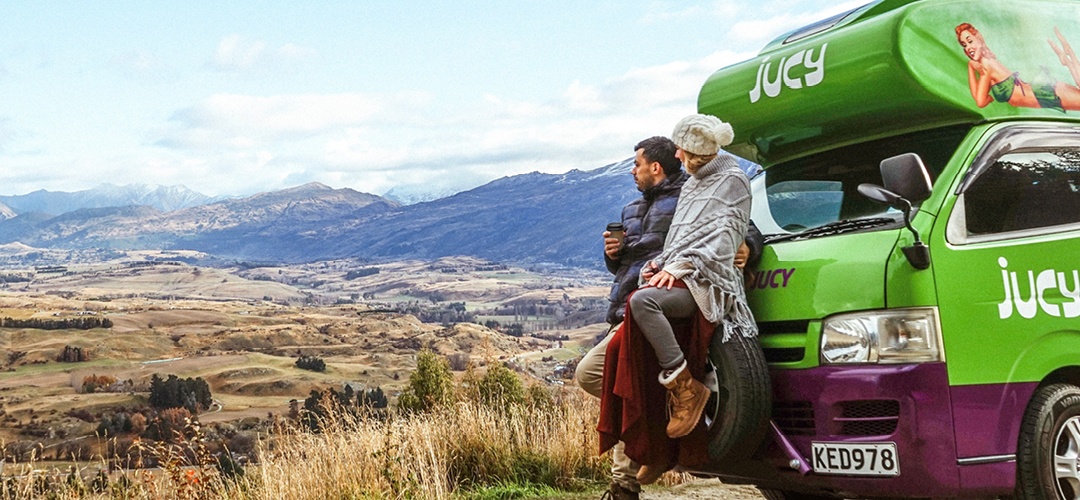 JUCY – Leading Sustainability Through Customer Feedback
You probably know JUCY for their trendy purple and green vans and sassy marketing.
What you might not know, is that they're massive champions of the customer experience, and we're proud to be partnered with them on this journey.
A new commitment to sustainability
It's no secret that New Zealand is a tourist haven, known globally for its clean, green image, rolling hills, and beautiful beaches. The last few years have been prime-time for New Zealand—booming Chinese and Indian middle classes have led to an even greater demand for the New Zealand experience, and our tourism industry has been thriving.
However, with this comes a danger. Recently, Tourism Industry Aotearoa has introduced an industry-wide sustainability commitment, with four key pillars, eight goals, and twelve business-led objectives, all designed to ensure this boom in New Zealand tourism is sustained, and companies like JUCY don't suffer a sharp drop off.
Making visitor sustainability front and centre
Sustainability has always been a core element of JUCY's business, but since the TIA's sustainability commitment, this has only grown. We spoke to Tim Alpe about why the pillar of visitor sustainability is critical to JUCY:
"New Zealand is hot right now. But if we want people to keep coming back, we need to make sure they're having the best experience possible. If they're being hassled, or it's overcrowded, they won't come back."
Tim goes on to explain that this kind of negative experience has a knock-on effect to the entire country, saying, "It reflects poorly on the country. People go home and speak about their experiences, and other people won't choose New Zealand as a result."
That's why JUCY have made a commitment to providing a phenomenal customer experience, through the power of customer feedback.
Using customer feedback to lead the industry
JUCY haven't always been champions of customer feedback.
Tim explains how there was a time earlier on in the business where feedback was given a lot of lip service, but not taken very seriously. "I guess we didn't truly understand the benefit of listening to the customer, and thought we already knew what was best."
Now, JUCY capture customer feedback at every point of the customer experience—after booking, during the customer interaction, and post-experience. "Customer feedback is critical for us," Tim says, "And we need to understand exactly where the experience can be enhanced to make sure we're retaining as many customers as possible."
Reaching new heights with customer-led innovation
Perhaps one of the biggest impacts becoming customer-focused has had on JUCY is regarding its innovation.
Traditionally, there have been plenty of pain points in travel, and recently JUCY decided to leverage their customer feedback to address these. Reaching out to their customers, JUCY asked, "What do you hate about staying in a traditional backpackers?" The responses flowed in: Getting clothes stolen, lights going on and off at weird hours, people watching while you sleep, fighting for power points… The list goes on. Taking this information, JUCY devised a new model of accommodation—pods. Each traveller has their own pod, with the ability to control light/darkness, safeguard their privacy and security, and access their own power point.
Thanks to this innovation, JUCY is ensuring that travellers to New Zealand have the best experience possible—no more stolen items or broken sleeps. As Tim asserts, "Taking information, then turning it into a product to deliver is critical, and you don't get that unless you talk to your customers… You have two ears and one mouth for a reason."
Sustainability through feedback
Looking ahead to the future, JUCY see the entire tourism industry operating with a customer-centric focus.
"On the one hand, it's a huge competitive advantage to have the extra understanding of our customers that we have. But on the other, we want the industry as a whole to grow, and we're willing to be the ones who lead that," explains Tim.
Tim hopes to see a tourism industry where companies' NPS scores are transparent, and competitors compete on the basis of these regionally. "When this sort of benchmarking occurs, we'll see a real increase in the level of service provided to customers, and ultimately New Zealand will win."
As New Zealand looks ahead to a sustainable future in tourism, it's clear that companies like JUCY are on the right track. After all, how can you wow customers, if you don't know what their experience is like?